Bryn Williams Colwyn Bay bistro deal finalised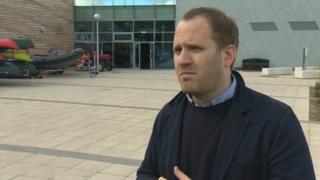 A new bistro owned by celebrity chef Bryn Williams will open later this year in Colwyn Bay after he signed a lease deal with Conwy council.
Williams announced last September that he would open the bistro at the new Porth Eirias water sports centre.
But in February there were concerns over delays in opening the venue, with Conwy council blaming "legal issues".
A spokesperson for Williams, from Denbigh, said he was "very pleased" to have now finalised the deal.
The chef has appeared on TV programmes such as "Great British Menu" and owns a restaurant in London's Primrose Hill.
Local produce
The spokesperson for Williams added: "We are very pleased to have now finalised and signed the lease for The Porth Eirias site.
"Our decision to come to Conwy has never been in doubt. We have invested a great deal of time and money over the last 12 months on the preparations and planning for this project and are confident that it will be a great success.
"We are looking forward to putting our future success back into the local community by using local produce and supplies."
The spokesperson said Williams was also looking forward to creating jobs locally and working closely with Coleg Llandrillo's hospitality and catering department.
Conwy council leader Dilwyn Roberts said the authority was "delighted" Porth Eirias had attracted such a well-respected restaurateur.
"The legal process took longer than any of us anticipated and the delay has at times been frustrating for all involved," he added.
"Focussing on the positive, work can start on fitting out the building in preparation for the arrival of Bryn's team later in the year."