Surf Snowdonia centre: Conwy wave park gets final approval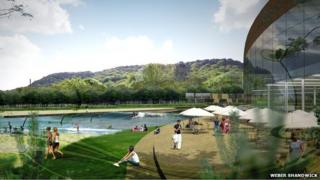 Plans for a new surfing centre and "wave park" at a former factory site in Conwy Valley have been unanimously approved by councillors.
It is hoped the Surf Snowdonia project, at a former aluminium factory in Dolgarrog, will open in early summer 2015.
The developers said it would create 100 construction jobs with 60 jobs on site once it opens.
Conwy Councillors gave their backing to the plans at a meeting on Wednesday.
The plans include a "wave garden" with lagoons, water slide, wakeboard lake, lodges, restaurant, retail and play facilities along with a main car park for up to 250 spaces.
The wave park is being built by a Spanish company which manufactures wave generation systems, having designed and built a research and development centre in Northern Spain known as the Wavegarden.
Conwy Adventure Leisure (CAL) signed a "seven-figure" deal earlier this month with the developers.
Engineers specialised in fluid dynamics and aeronautical engineering have devised a wave generator that sends a consistent wave of water down a lagoon. They can also control the height of the wave.
CAL managing director Steve Davies said: 'We have been working hard to set our plans for the UK's first Wavegarden in motion and are delighted to announce the next stage of the journey."
He says work is expected to start in May.