Gwynedd council considers three-week black bin bag rule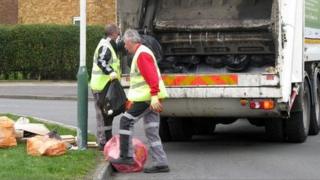 Black bag rubbish may be picked up every three weeks as Gwynedd council battles to avoid possible fines it "simply cannot afford".
The council says its weekly kerbside recycling and food collection services justify introducing the three-week rule on collecting household rubbish.
Plans to change collection routines go to the council cabinet on 29 April.
The local authority said it was "within a hair's breadth" of a £123,000 fine in 2012/13 for not recycling enough waste.
Ministers expect councils to recycle or compost 52% of household refuse and by march 2016, the Welsh government will increase this minimum to 58%.
Failure to hit targets would see the Welsh government impose fines.
Councillor Gareth Roberts, Gwynedd council's cabinet member for environment, said: "If we don't act now, it is only a matter of time before the council is hit with massive financial penalties which we simply cannot afford."
He said the experience in 2012/13 suggests the council would "reach this point sooner rather than later" without more households being persuaded to get recycle, he said.
If the proposals on 29 April are approved, the changes will begin in the Dwyfor area from October, the Meirionnydd area from March 2015 and in Arfon from June 2015.