Colwyn Bay's Glenn Holmes's Himalayan helicopter rescues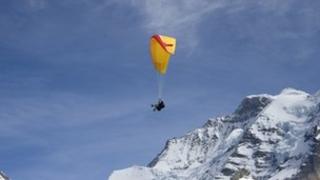 A former RAF helicopter crewman who saved two people in dramatic rescues while on holiday, is to be honoured for his "selfless" acts of courage.
Glenn Holmes, from Colwyn Bay, Conwy, was in the Himalayas when two paragliders crashed.
In one rescue, he agreed to dangle from a line beneath a helicopter to reach the victim, and helped save another in a similar incident the next day.
He will receive a Royal Humane Society Silver Medal in May.
Mr Holmes, a former RAF rescue helicopter crewman and medic, was on a paragliding holiday in Dharmsala last October, where a paragliding competition was also being held.
'Action movies'
Dick Wilkinson, the Royal Humane Society's secretary, said: "Towards the end of the event two crashes were reported.
"There was a Bell 407 helicopter for med-evac purposes but it had no crew. Glenn volunteered to act as crew on both occasions, and, on each, proved the difference between life and death.
"He risked his life on each occasion, putting his safety in the hands of untested equipment in a selfless act of courage.
"These were remarkable rescues by a remarkable man. It's the sort of thing you see in action movies but this time was in real life and he thoroughly deserves the Society's very rarely awarded Silver Medal."
In the first rescue, Mr Wilkinson said a Russian competitor crashed into a mountainside, breaking ribs and injuring his spine.
'Untested rope'
He added: "After half an hour's search, and just before dark, they found him and landed some 180 yards away, which was as close as they could in dwindling light.
"The only way a rescue could be achieved was for Glenn to tie one end of an untested 100ft rope to a skid on the helicopter and the other to himself - under his armpits.
"He was then flown to the injured man, swinging freely on the line. He was put down near the casualty and he clipped himself to the man with a karabiner.
"They were then lifted to a safer area. They had to be lowered carefully to the ground, where Glenn could stabilize the man, before he was put in the helicopter and taken to safety.
"The two men were supported on an untested rope with the full weight under Glenn's arms.
"He was unable to talk to the pilot and unable to disconnect in case of further emergency."
The next day, a Dutch crash victim suffered serious injuries and was stranded overnight on a mountain.
Mr Holmes, secured to the helicopter by a "makeshift harness" guided the pilot and mountaineers as they rescued the casualty.
Mr Holmes now works as a medic with a civilian company.
His award has been approved by Princess Alexandra, the Royal Humane Society's president.
The society, founded in 1774, honours bravery in the saving of human life.