Egg-xtra deal for Ysgol San Sior pupils in Llandudno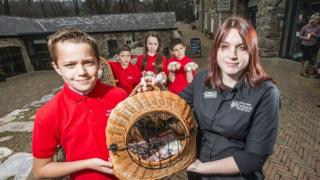 A group of children in Llandudno are getting some egg-xtra lessons through a deal to sell the free range eggs they produce.
Ysgol San Sior pupils turned down a supermarket deal to market their eggs.
Instead, the unusual boxes of seven different coloured eggs have gone on sale at a business selling mostly Welsh produce in the Conwy Valley.
Head teacher Ian Keith Jones said pupils will get a great insight into how a successful business operates.
"We turned Tesco and Londis down as they wanted to launch Wyau San Sior (San Sior Eggs)," he explained.
"In addition, we can sell the eggs in school holiday time, when the hens still lay, but our usual customers in the local community aren't around."
Agricultural shows
Mr Jones explained the school has 90-plus laying hens and nine cockerels which produce more than 400 eggs a week - a figure which is expected to rise as their 29 quails start producing.
And it is not just standard white eggs on offer, with some of the school's 17 hen varieties supplying a medley of coloured ones.
"We sell them in transparent boxes of seven eggs - one for every day of the week - which vary in colour from pale blue to white to chocolate brown. The labels for the boxes are designed by the children as well," he added.
A novice chicken breeder a year ago, Mr Jones is now so enthusiastic he has joined Gwynedd Poultry Club and plans to exhibit members of the flock at club events and agricultural shows, helped by pupils.
Ysgol San Sior eco ambassador Evie Barrasford, 10, said: "Our school business is a team effort instead of just a few people.
"Each week a different class gets to care and look after our chickens. This also benefits our maths and even our English, by writing articles to doing a tally chart of how many eggs are laid each week."
Bodnant Welsh Foods shop supervisor Hayley Roberts said the eggs were a welcome addition.
She said: "Having eggs that are produced locally while helping to promote numeracy and literacy skills in children, and foster an understanding of both agriculture and business, is in keeping with our aim of being part of the community we serve."