Anchors away: 400kg anchor theft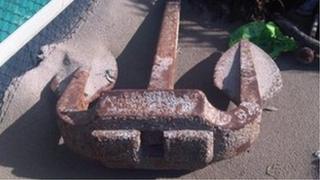 An anchor weighing 400kg has been stolen from a yacht club compound.
North Wales Police said thieves would have needed heavy lifting gear to remove the barge anchor from Barmouth Yacht Club's lock up.
Officers believe it was taken sometime since the beginning of March and would have taken a "fair amount of time" to remove from the Gwynedd compound.
They said the thieves would have needed specialist equipment and a vehicle to steal the anchor.
Investigating officer PCSO Paul Duggan said: "Clearly the anchor is very heavy and would have required heavy lifting gear, a vehicle and a fair amount of time to take from the compound.
"Any vehicle used will have been parked in the adjacent harbour public car park and alongside the 10 foot high boundary fence and so I'm hopeful someone will have witnessed this act."
Anyone with information is asked to call 101.
In August 2010 thieves stole a 8ft (2.4m) bronze sculpture of engineer Isambard Kingdom Brunel from its plinth in Neyland, Pembrokeshire.
The bronze statue, which cost £30,000 when erected in July 1999, was taken overnight. Officers said lifting equipment must have been used to remove it intact from its plinth at Brunel Quay.
In 2012, a 4.5 tonne anchor from the Liverpool steamer, The SS Agnes Jack, which sank off the Gower coast in south Wales, was stolen from a boat club yard in Port Eynon, Swansea.