Woman stuck in mud at Red Wharf Bay rescued by RNLI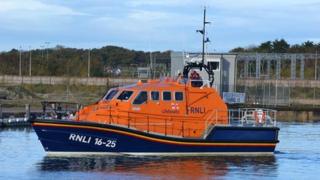 A woman who became trapped waist-deep in mud for two hours on an Anglesey beach had to be rescued by lifeboat crews.
Members of Moelfre RNLI were called to Red Wharf Bay at about 14:00 BST on Tuesday.
They managed to pull the woman in her 40s free just minutes before the incoming tide reached her.
Two other people were also thought to have been trapped but were found safe on shore.
Rescuers had to walk half a mile (0.8km) up river to get to the woman after low tide prevented access by boat.
A coastguard mud specialist joined RNLI crew members who used a stretcher as a stable platform from which to pull the woman free.
A RAF Valley rescue helicopter was on standby, but was stood down after paramedics said the woman was fit and well.