Concern over 'swan droppings in sand' at Llandudno West Shore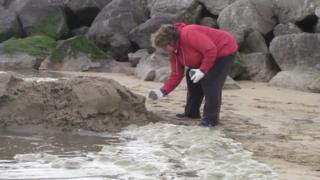 Dog walkers in Llandudno have urged the council to reassure people about the cleanliness of sand being dumped on to a popular beach.
They claim swan excrement is mixed into the sand which is being moved from the town's boating lake to West Shore.
"Salmonella, listeria and campylobacter are all present in water frequented by wild fowl... that inhabit the lake," said resident Tony Costa.
Conwy council said bird droppings would be removed.
Mr Costa and his wife Caroline have raised concerns about the quality of the sand being excavated from the seaside town's boating lake.
The lake is used by radio-controlled model boat enthusiasts but has also become a popular haunt for swans from a nearby nature reserve.
The Costas say in previous years sand from the lake was dumped at the end of a beach defence groyne away from casual passers-by and dog walkers,
Mr Costa said: "I would like reassurance from Conwy council that the sand isn't harmful to the environment and my pet."
In a statement, Conwy council said: "The council has been granted a marine licence to move wind-blown sand at West Shore, Llandudno.
"Prior to the approval of the licence, the issue of removing sand from the boating pond was discussed with Natural Resources Wales, in particular the possibility of contamination within the accumulations of sand in the boating pond.
"It was agreed that the sand could be removed from the boating pond, providing that the work was carried out prior to the bathing season and that if large amounts of bird droppings were found, they would be removed and disposed off site.
"Work is progressing within these guidelines and monitoring is ongoing."
Natural Resources Wales said it wanted to thank local people for "reporting their concerns".
A spokesperson said: "Conwy County Borough Council hold a marine licence from us which permits them to undertake this work on an annual basis.
"We have also advised the council on how to minimise the risk of contamination whilst undertaking this work.
"This includes a condition within the licence which requires sand containing high levels of bird faeces to be separated out before material can be deposited on the beach.
"If anyone notices any signs of pollution they should report it to our incident hotline on 0800 80 70 60."