Llandudno tourism 'boost' if sandy beach restored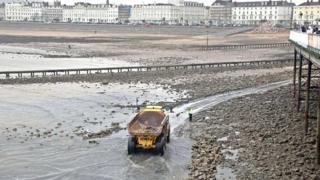 Campaigners are battling to restore a sandy beach at what they claim is the "queen of the Welsh resorts".
The North Shore in Llandudno was covered with cobbles 12 years ago to boost sea defences.
But the recent winter storms washed many of the stones away and people in the town want sand to replace them, arguing it would boost tourism.
Conwy council has agreed to work with campaigners but said bringing back sand could cost millions of pounds.
"I watch children climbing over these stones and thinking they're going to break their ankles," said campaigner Alison Shields, who claims she has had responses backing her campaign from as far away as Australia and Vietnam.
"I'm a local - born and bred in Llandudno - and I spent the majority of my childhood on North Shore on the sand. I know only too well how beautiful the beach was.
"This isn't just about the town's people of Llandudno - this is about the visitors that come to visit our town. It's going to kill our tourism."
The stones were put on the beach to slow down the pounding of the waves but the recent storms washed many of the stones away.
Over the last month some of the stones have been put back.
But another campaigner, Ian Turner, said: "This is the queen of the Welsh resorts and Llandudno at the moment has lost its crown.
"What we're saying is what if there's a better way, a more effective way and a more tourism friendly way of preventing flooding to the town? We agree we need sea defence measures but not these."
Councillor Mike Priestley, Conwy's cabinet member for environment, has worked with the campaigners but questioned whether a sandy beach would give sufficient protection against floods.
"Yes, we can look at options," he said.
"Some people were saying we need to bring back a beach and what will hold that in place is old wooden groynes.
"No-one in their right mind is going to give you millions and millions of pounds to do that knowing what evidence there is to keep that sand in place.
"To get that evidence you're going to have to model what your proposals are. To model those proposals it's going to cost tens, if not hundreds, of thousands of pounds."