Gwynedd and Anglesey homes plan threatens language, say campaigners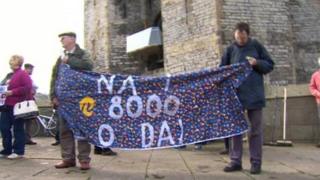 Opponents of plans to build thousands of homes in Gwynedd and Anglesey by 2026 say they could be disastrous for the Welsh language.
Campaigners held a rally in Caernarfon on Saturday to protest against the proposed local development plan.
The Welsh Language Society is calling for plans to be put on hold while the local need is assessed.
Gwynedd council leader said it aims to strike a balance between the language and the need for affordable housing.
Under proposals being drawn up jointly by Gwynedd and Anglesey councils, 8,400 new homes will be provided from 2011 to 2026.
'Bigger impact'
Every local authority has to draw up a local development plan (LDP) which sets out how many new homes are needed and where they should be located.
Language campaigners claim there has not been a full assessment of local housing needs in Gwynedd and Anglesey.
About 300 people gathered in Caernarfon town centre on Saturday afternoon to protest against the proposed LDP for Gwynedd.
Ben Gregory, from the Welsh Language Society ( Cymdeithas yr Iaith Gymraeg), told BBC Wales' Sunday Politics programme there is a need for affordable homes but he fears there is no evidence to suggest that money is available to provide social or affordable housing.
He said: "The people who can afford the housing in Gwynedd will come from outside of the county.
"The people who will move in will not speak Welsh, will probably not learn Welsh.
"We've seen over the past 10 years with results of the last census that the number of Welsh speakers in Gwynedd has gone down markedly.
"With more and more housing being built for people who move in from outside of the area that's only going to have a bigger impact and put more pressure on the Welsh language."
Gwynedd council leader Dyfed Edwards said housing projections are based on robust evidence and consultation with communities.
Mr Edwards, a Plaid Cymru councillor, said the impact on the Welsh language has been considered.
He said the aim is to strike a balance: "On the one hand embracing the Welsh language and making sure it's something we give due consideration to in any development plan, but also ensuring we have sufficient land to build houses within the price bracket that local people can afford."
Gwynedd councillors involved in drawing up the plans claim focusing on 8,000 new homes is misleading.
According to figures from Gwynedd council, 4,700 housing units are earmarked for the county.
Undeveloped land
Of those, they say 1,800 have already been provided or have secured planning permission.
It is argued a further 1,000 homes will be converted from existing buildings in larger towns, leaving fewer than 2,000 new houses on currently undeveloped land.
One Plaid councillor and parliamentary candidate wrote to colleagues warning that Plaid Cymru could suffer in elections as a result of the row.
Liz Saville Roberts, the candidate for Dwyfor Meirionnydd, fears that Plaid's Arfon seat could be vulnerable in next year's general election.
Council leader Mr Edwards said he does not share that view and claims "people are looking for a party who will respond to the agenda that we face" of addressing the need for housing while protecting the language.
The proposals for Gwynedd and Anglesey are subject to consultation and the final version of the local development plan is due to be rubber-stamped in 2016.
Sunday Politics is on BBC One Wales at 11:15 GMT on Sunday, 30 March