Family of Carole Anne Wall want more charges over death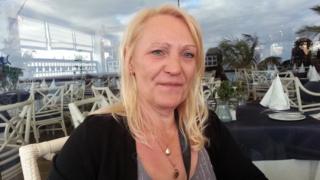 The family of a Llandudno woman who died after an incident involving a stranger banging on her door, want officials to consider more charges against the man allegedly involved.
Carole Anne Wall's heart attack was probably triggered by the trauma, an inquest heard.
Giving a narrative verdict, the coroner said he could not apportion blame.
A man has been charged with criminal damage and possessing an offensive weapon following the death.
The inquest in Llandudno was told that 58-year-old Mrs Wall was at home with her husband and adult son on 15 September last year.
In his evidence, Peter Wall claimed that at about 23:30 GMT he heard someone banging on their patio doors and a man shouting: "He's trying to kill me, he's trying to kill me. He's got a gun."
'Sheer pandemonium'
He claimed he saw a man standing outside their home, carrying a claw hammer and asking to be let in.
In statements read to the inquest, Mr Wall and his son Neal described how they had all been terrified and how "sheer pandemonium" broke out in the house.
Mrs Wall rang 999 and was talking to police when she collapsed and died of a massive heart attack.
Home Office pathologist Brian Rogers told the inquest that Mrs Wall had been suffering from very extensive heart disease.
He said he believed she must have already suffered a heart attack and that the existing damage to her heart was such that she could have died at any time.
He also said the extent of heart disease she was suffering from was unusual in a woman of her age, although the coroner also heard Mrs Wall knew nothing about her condition.
However, Dr Rogers concluded that in his view "she wouldn't have died when she did if this incident hadn't occurred".
The "relationship between these events and her death is too strong to ignore," the pathologist added.
Man charged
The coroner was told that a man has been charged with two offences following Mrs Wall's death - criminal damage and possessing an offensive weapon.
Legal proceedings are still continuing and there was no evidence at the inquest either in person or in a statement from the man allegedly involved.
The coroner was told in a statement from the police that the Crown Prosecution Service had looked at other charges.
Dr Rogers told the coroner: "I would have liked to have seen that this was put before a jury, for a jury to make a decision."
In delivering a narrative conclusion, John Gittins, the coroner for North Wales East and Central, said: "It's probable that the timing of her death was the result of the stress which was put on her by the trauma of events."
However, he also explained that while a coroner can reach a conclusion on a balance of probabilities, criminal proceedings require proof beyond reasonable doubt.
In a statement afterwards, a member of the Wall family said they "will be giving serious consideration to seeking to persuade the CPS to review their current charging decision in view of the evidence given during the course of the inquest."