Driver lost eye in taxi attack by Russell Thomas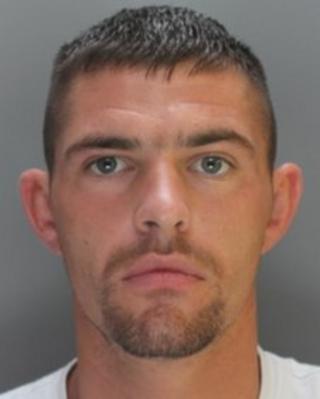 A taxi passenger has been jailed for three years for a "reckless" attack on a cab driver who lost his eye in the assault.
Russell Thomas, 26, of Llandudno, Conwy county, butted a partition protecting the driver sending a piece of it into his eye.
Richard Mattison, 48, was forced to have the eye removed, Mold Crown Court was told.
Thomas admitted wounding, and damaging the taxi.
In a victim impact statement, which Mr Mattison read to the court, he said his life would never be the same again.
Ongoing medical treatment had been unbearable and there was a small chance he would lose the sight in his remaining eye, he said.
Disbelief
"I do not understand how something so life-changing could happen when I am going about my duty to get people home safely. I do not deserve to be maimed for life," he said.
Mr Mattison also said he had been subjected to "gangster-style intimidation" and threatened with death if he gave his attacker's name to police.
"I cannot believe that someone can cause the horrific injuries and leave me alone in the dark, under threat of death, if I gave his name to the police," he said.
The court heard how Thomas, who has a previous conviction for robbery, had butted the partition screen in the taxi out of panic after being picked up by Mr Mattison in Llandudno on 25 July last year.
He had been locked in the taxi by the driver over an unpaid £16.99 fare.
However, when Thomas became agitated, but Mr Mattison decided to write off the fare and unlocked the doors.
Bleeding profusely
But as Mr Mattison turned, the defendant butted a plastic screen sending part of it into the victim's face.
The court heard Thomas threw money through the gap in the partition then left the driver alone in the dark, badly injured and bleeding profusely.
Defending, Maria Massellis said: "The knowledge that he had inflicted a life-long injury has impacted upon him. It will remain with him for the remainder of his life."
Judge Peter Heywood said that he accepted that it was a reckless act but it had "horrendous consequences".
"You caused a catastrophic injury to this taxi driver which have blighted his life," he said.
The judge said he accepted the defendant had once been kidnapped and unlawfully imprisoned, and he may have been nervous about being confined inside the taxi, but that did not excuse his actions.