Mobile signal mast in Snowdonia repaired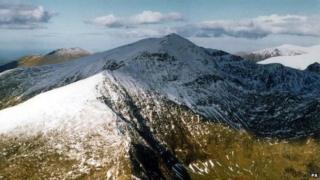 A broken mobile phone mast which has caused problems for mountain rescuers in north Wales trying to mobilise teams has been repaired, Vodafone has said.
Llanberis Mountain Rescue told BBC Wales that the fault had affected the text messaging system they use to call out volunteers.
The problem was then compounded when the winter storms led to issues with traditional landline phone networks in the area.
Vodafone apologised for signal losses.
Llanberis Mountain Rescue chairman, John Grisdale, said: "Over the last few weeks there have been a few issues with the mobile phone signal which is used by our volunteers, so calling them out to deal with rescues has been a bit complicated.
"The BT lines were badly affected by weather so landlines weren't working in some cases and also the internet connection at our Nant Peris base was affected.
"Most of our mapping and information we share with members goes through our computer system there."
Mr Grisdale said he had not been aware of any walkers who had needed help being affected, but added there were always mobile signal blackspots high up in the mountains.
Other Vodafone customers across the region had complained their phones were not receiving a signal during the period.
Engineers repaired the hardware fault at their site at Deiniolen, near Llanberis, on Tuesday.
The company apologised to customers for the loss of signal, adding work on the site was delayed by severe weather conditions and also on other planned work that was taking place.