Bala cooks up Welsh cake Guinness world record bid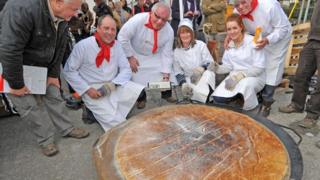 A Gwynedd town is waiting to hear if it has broken the world record for the largest Welsh cake ever made.
Four chefs mixed, rolled and cooked a Welsh cake 1.5m (5ft) wide weighing 21.9kg (48 lbs) during St David's Day celebrations in Bala on Saturday.
After being flipped to cook evenly, the Welsh cake was cut into pieces and sold out within 15 minutes.
Two officials were on hand to witness the event and organisers hope to hear from the Guinness Book of Records soon.
"There were a few tense moments as the team of cooks rolled the cake to the correct depth and then cooked the cake over very hot coals," said a spokesperson for the organisers.
"The temperature was monitored and the cake was twisted and turned to cook evenly. Then came the flip.
"There was a roar from the crowd as the flip was successful and a cheer of joy when the top came off and the cake was perfectly browned."
Mel Williams, chair of the Bala and Penllyn Tourism Association, said: "The day exceeded all our expectations.
"We enticed hundreds of people into the town to shop, we created a feel-good factor with fun for all and managed to bake the biggest Welsh cake in the world.
"The whole town came together on the day with willing hands to put Bala on the map of the world - you can't get better than that."
Money raised from the sale of the Welsh cake is being given to five charities.