Extra £5m for Colwyn Bay flood protection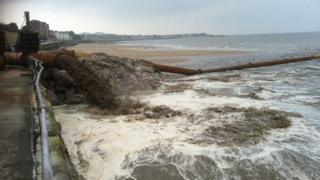 A further £5m will be spent to protect homes, businesses and transport links in Colwyn Bay from flood damage, said the natural resources minister.
The A55 expressway and the north Wales coast railway are among "key local infrastructure" that will benefit.
It is feared the existing sea defences could "fail" within the next five years if nothing is done.
The minister, Alun Davies, said the recent bad weather served to highlight the risk of flooding was increasing.
The latest grant from the Welsh government will be used to help prevent flooding and coastal erosion.
The existing sea defences at Colwyn Bay were built in the late 19th Century.
Despite continuing attempts to repair them, a Conwy council report found that if no action was taken it could eventually result in about 200 properties being lost, as well as the A55 and railway.
'Build up resilience'
Conwy council has estimated that the construction and long-term management of its sea defence scheme will cost around £81m.
It has proposed phased improvements to the sea wall and the maintenance of defences over the next 100 years.
The first phase of the Colwyn Bay coastal defence strategy aims to protect the most at-risk homes, which are between Cayley Embankment and Eirias Park.
The latest £5m will be part of this and pay for improving the sea wall and other defences.
There will also be improvements to the promenade.
Mr Davies said: "We are determined to build up resilience to flooding in communities across Wales and I look forward to this latest allocation of funding being spent in order to ensure greater protection and peace of mind for those people living and working in Colwyn Bay."
Half a million tonnes of sand was pumped on to Colwyn Bay beach last year to improve sea defences and tourism.
The Welsh government said the funding was in addition to £5m announced last year to help bolster defences.
Around £240m is being spent by the Welsh government on flood defences during this assembly term.
An extra £4.6m has also been announced since this winter's storms for work such as emergency repairs to defences.