North Wales rain and wind warning remains in place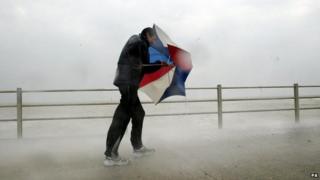 A yellow "be aware" weather warning remains in place for parts of north Wales until Monday morning, say forecasters.
The alert for Gwynedd and Conwy has been extended until 09:00 GMT on Monday by the Met Office.
Winds were forecast to hit gusts of up to 70mph in some places.
Trains were delayed between Holyhead and Bangor for a number of hours after trees were blown on to tracks near Bangor.
A holidaymaker from Bolton in Greater Manchester also had a lucky escape in Llandudno after the strong winds brought part of a chimney down on his car outside a hotel.
Thomas Burns had been staying in the town with his wife when the incident happened, but neither had been in the car at the time.
For much of the day, the A55 Britannia Bridge between Anglesey and Bangor was closed to high-sided vehicles. Restrictions were lifted early on Sunday evening.
Weather forecasters said as much as 80mm (3in) of rain could fall on hill tops on Sunday and Monday, bringing a flooding risk.
Natural Resources Wales said it was continuing to monitor river levels, but had only one flood alert in place on Sunday, for south Pembrokeshire.
Wettest winter
The latest alerts from the Met Office come after it confirmed that Wales had its wettest winter since rainfall records began in 1910.
According to its figures, 690mm - over 2ft - of rain has fallen in the last three months.
The normal long-term average rainfall for a Welsh winter is 434mm - about 17 inches.
Commenting on the winter rainfall figures, BBC Wales meteorologist Derek Brockway said: "The run of storms has been exceptional in its duration so I am not surprised it has turned out to be the wettest winter in Wales since records began in 1910.
"I have been interested in the weather since I was eight and a forecaster since 1995 and I have never known such a wet winter."