Wylfa nuclear power: Key consultations on reactors starts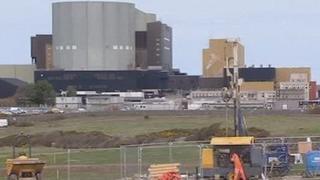 Consultations have begun which could help pave the way for a new nuclear power station on Anglesey.
On Tuesday, an official UK-wide review started to weigh up the benefits of the type of reactor that could be built at Wylfa.
Horizon Nuclear Power want to put what are known as Advanced Boiling Water Reactors on the site, next to the ageing Magnox plant.
Anglesey council is also running its own public consultation on the island.
The current Wylfa power station will close in 2015 at the latest, after beginning operation in 1971.
The proposals from Horizon Nuclear would see a new Wylfa built on a neighbouring site, at a cost of £8bn.
The new UK consultation is set to run for 12 weeks and follows an application for what is known as 'regulatory justification' for the new ABWR style of nuclear reactors.
UK Energy Secretary Ed Davey must decide whether the benefits of the new technology outweigh any potential radiation dangers or health risks.
Horizon Nuclear hopes its ABWR plans will be given the go-ahead at both Wylfa and at Oldbury in Gloucestershire.
"The consultation on the regulatory justification application of the reactor is an important milestone in our plans," said Horizon's chief operating officer, Alan Ryamant.
Horizon was acquired by Japanese firm Hitachi in 2012, to push forward plans for a new power station on Anglesey.
Island views sought
While the final decision on whether a new reactor can be built lies with the UK government, Anglesey council has now launched its own public consultation on Wylfa.
The council remains responsible for agreeing a series of planning options that are vital to the success of the new station, on issues such as workers' accommodation, logistics centres, and park-and-ride facilities.
Setting out its consultation on the supplementary planning guidance, the council said a new Wylfa power station presents a "once in a lifetime opportunity to transform the economy and communities of the island".
The council's consultation closes at the end of March.