Anglesey executive calls for 4.5% council tax rise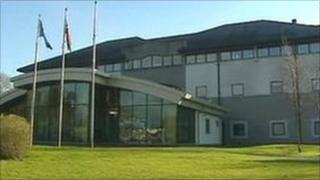 Council tax payers on Anglesey are facing a 4.5% rise in their bills after a recommendation by the local authority's executive.
The council, which aims to slash around £7m from its 2014/15 budget, will vote on the proposals on 27 February.
The council is also considering controversial plans to increase fees and cut jobs at leisure centres.
The meeting on Monday recommended the council accepted 45 voluntary redundancy applications.
If the executive's recommendations are adopted by the council, the average band D council tax bill will stand at £981.41,
The precepts for North Wales Police and for community councils would be in addition to this.
In a statement, the local authority said feedback on the budget consultation process had been borne in mind by the executive which had been considering a 5% council tax rise.
'Listened'
Councillor Hywel Eifion Jones, who holds the finance portfolio, said: "It was evident in the responses that people had concerns about the proposed increase in council tax, which was above inflation.
"We've listened to their concerns and done our best to keep council tax down."
Mr Jones said a 4.5% increase would mean an extra 81p a week on the council tax bill for the average band D property.
Anglesey council confirmed that the possibility of lowering the age children began school "will still remain on the agenda".
It said: "Executive members today agreed that talks with pre-school organisations should continue to find a solution focused on delivering an effective and efficient quality education for young children.
"Any changes, as a result, would not be fully implemented by the start of the new school year in September."