Rescuers find poorly equipped men near Snowdon summit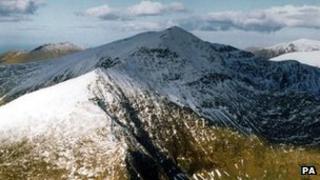 Two poorly equipped men have been rescued after getting stuck in snow and ice on Snowdon.
The men, from Liverpool, had no maps or torches, and became stuck near the 3,560ft (1,085m) summit at about 17:00 GMT on Sunday.
Members of the Llanberis Mountain Rescue Team (MRT) located the men through their phone, and walked them off the mountain just after midnight.
The men were described as uninjured, but cold.
Six mountain rescue team members were deployed to the mountain and a rescue helicopter from RAF Valley, Anglesey, was on standby.
John Grisdale, chairman of Llanberis MRT, said: "Since the beginning of February we have attended six incidents.
"All have been down to lack of equipment and experience bearing in mind the weather conditions.
"That is what we are worried about. On the top of Snowdon, it's been Arctic conditions on occasions."