Blind law professor's gratitude for community support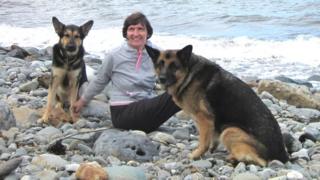 A woman thought to be the UK's first blind female law professor says she wants to thank the community who supported her through her studies.
Around 20 people in Llanelltyd near Dolgellau in Gwynedd recorded books and articles on to tape to help Anna Lawson achieve her goal.
The community had stepped in to help after her family made an appeal after it became too much work for them.
Ms Lawson has been appointed professor of law at Leeds University.
She said: "It was absolutely incredible - the whole community helped me and my sister Jane," who suffers from the same rare form of macular degeneration.
"I should think that at least 20 people helped with taping - some of them treating it like a full-time job!"
Prof Lawson said she wanted to thank the community, and also the volunteers at the Leeds University RNIB transcription service, for the time they had put in to help her.
"I was glad to work really hard when people had put so much effort into making it possible for me to do so," she said.
"However, I feel passionately that there should be systems in place which ensure that education (as well as health, transport and other services) should be accessible to disabled children and adults without the need for communities to have to rush to the rescue as, luckily for me, the Dolgellau community did - and using the law to help achieve that is pretty much the focus of my work now."
Prof Lawson's eyesight began to deteriorate when she was around seven years old, but both she and her sister stayed at the local school until they were ten.
The nearest school for children with multiple disabilities was in Coventry which she attended from the age of 11.
Her parents, Bruce and Catherine Lawson, initially wrote everything out in big black print but as time when on that became too slow.
So they set about helping their daughters by putting information onto tape with Mr Lawson concentrating on the sciences and Mrs Lawson on the arts.
Mrs Lawson said: "I advertised for help because the girls went to different universities where there were no taping services.
"We had people in every room in our house, and we sent tapes both off to Cardiff and Oxford and then to Cambridge and Chester.
"Merched y Wawr had read about it in the paper and they donated money to buy four tape recording machines.
"The stalwarts of our reading group put in hours - half a dozen of people would put in as many hours as me.
"Both girls worked very, very hard. The whole community of Llanelltyd are so proud of them," she added.