Bryn Williams bistro 'will go ahead' despite delays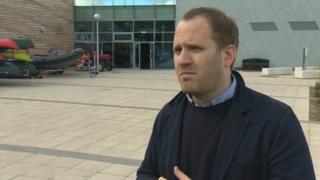 Plans by celebrity chef Bryn Williams to open a bistro in Colwyn Bay will go ahead despite delays, council officials have said.
Mr Williams, from Denbigh, has appeared on TV programmes such as "Great British Menu" and owns a restaurant in London's Primrose Hill.
Last September he announced he would open a bistro at the new Porth Eirias water sports centre at Colwyn Bay.
But nearly five months on and the restaurant is still not open.
At the time, Mr Williams said: "I didn't want to go through my whole career, and not cook in Wales.
"I left when I was 20, and I haven't cooked here since. For me it would be a shame if I didn't cook back in Wales."
Claims on the Twitter account @BrynPorthEirias said the bistro would open in mid November, then later said it would be completed in mid January.
Legal issues
Conwy Council, which developed Porth Eirias, said "legal issues" had delayed the opening, but plans to open the bistro are still being developed.
Councillor Graham Rees, the council's cabinet member for tourism, marketing and leisure said: "I can guarantee that Bryn is coming.
"I was at Porth Eirias recently, and I was shown boxes and boxes of furniture which belong to Bryn, ready to move in once the legal issues are settled.
"It's been complicated to finalise the lease for the bistro part of Porth Eirias, because it's a new building, constructed on land which was once part of the foreshore.
"The paperwork is now with our solicitors and with Bryn's solicitors, so I'm hopeful that things will start to move soon.
"Bryn's new bistro will be fantastic news for Colwyn Bay. When it happens, it will be worth the wait."