Conwy council rejects merger with neighbouring Denbighshire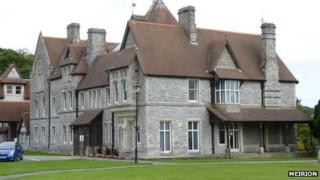 Councillors in Conwy have rejected proposals to voluntarily merge with Denbighshire council.
A meeting was told council tax in Conwy county would go up if the authority joined forces with its neighbour.
Last week the Williams report recommended that the two authorities be combined into a single council.
But Conwy's deputy leader said the report did not mention the cost of mergers, and previous collaborations had not worked.
Last week First Minister Carwyn Jones said: "Change is inevitable and essential so that our public services can become more efficient, effective, accessible and responsive".
On Friday, councillors in Conwy considered a proposal that the authority should support a merger with Denbighshire and begin the process of making it happen.
But the idea was rejected by a large number of the councillors, who voted against starting talks about a merger.
Conwy council deputy leader Ronnie Hughes said: "I'm not going to lie down like a lap dog and let people stroke my stomach.
"It's foolish to start any negotiations with any other authority at the present time.
"Nowhere in the Williams report does it mention the costs of council mergers. Who picks up that bill? It's an absolute disgrace.
"We've had partnerships (with Denbighshire) in the past over highways - it was a disaster. I vote we stay as we are."
Councillor Mike Priestley added it would be "premature" to begin talks to create a new authority.
He said he was worried that council tax bills in Conwy county borough would go up if the two authorities merged.
'Spectators'
Council tax bills for a band D home in Conwy council are currently £918.93, compared to £1,074.09 in Denbighshire.
Officials at Conwy council say that a merger of the two councils would probably mean a "blending" of the council tax levels, with Denbighshire's council tax coming down and the bill in Conwy going up.
They had calculated that the rise in Conwy would be 7.34% at current levels.
"Why should we merge with Denbighshire - they charge more for worse services," said Councillor Dave Cowans.
Councillor Graham Rees added: "I don't want to send a message that we're happy to dispose of Conwy on someone's whim. I'm going to fight tooth and nail to keep Conwy as Conwy."
But Councillor Goronwy Edwards, who proposed the motion, said: "The status quo is not the way forward.
"I will not sit back while the Welsh government pushes council mergers through.
"You could cut me in half and I'd have Conwy written inside me through and through.
"But we can either be part of the debate on reorganisation of local government or we can be spectators. I know which I'd rather be."
Councillor Joan Vaughan said it was only three years until a merged authority could come into being.
She added: "Three years is not a long time in politics. We need to be working on shaping the future now."
Councillors voted by a large majority for an alternative motion, which said that no merger talks would begin yet, but the authority would set up a committee to monitor the situation.