New cable work at Anglesey church unearths medieval wall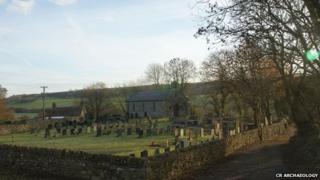 Part of a medieval wall has been uncovered at an Anglesey church during work to install a new electricity cable.
It is part of an older structure which was believed to have been totally destroyed when the current St Ffinan's church was built near Talwrn in 1841.
A large quantity of human remains was found dumped outside the old wall.
They are thought to have been disturbed when the Victorian structure was being built.
The discovery at St Ffinan's was made during the excavation of an electricity cable trench.
"It was an exciting find as it is unusual to find a wall as often old churches were completely destroyed and the materials reused when new churches were constructed," said Matt Jones, from CR Archaeology which is working on the site at the request of the Diocese of Bangor.
Mr Jones said 19th Century sources dated the foundations of the old church to 620AD, and the wall uncovered during the recent works was believed to belong to the same era, although it may be earlier.
As well as the older artefacts, evidence of the Victorian church builders was also uncovered including iron cleats from work books and a tin button.
Where the older church runs beneath the current building, the Victorian builders appear to have used the internal facing stones of the earlier structure.
Mr Jones said it was usual practice for Victorian builders to dig through any bodies they came across, and that explained the collection of human remains found dumped outside the medieval wall.
"They are believed to have been originally buried within the earlier building and were disturbed when the east-west wall of the later church cut through it," he said.
"The bones have been reburied where they were found."
He said a feature of the current building included a 12th Century carved grit stone font and a carved grit stone block in the church wall which was identified by an eagle-eyed member of the Talwrn Historical Society.