Three rescued from Tryfan, Snowdonia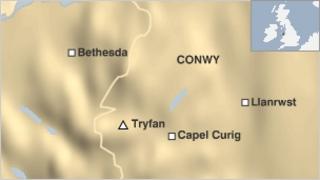 Two men and a woman have been rescued from a 3,000ft (914m) Snowdonia peak.
The trio of hill walkers, from Colchester in Essex, dialled 999 after they were stranded in a gully on Tryfan in the early hours of Thursday.
Rescuers spotted their helmet lights and they were hauled up by rope before being led off the mountain.
Ogwen Valley Mountain Rescue said there was soft snow on the peaks which made conditions difficult.
"Those venturing into the snow are being urged to carry crampons and an ice axe and to wear goggles," said a spokesman.