Porthmadog Football Club upgrade plan unveiled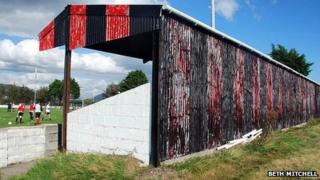 A Gwynedd football club has unveiled plans to upgrade its ground with an all-weather pitch, new stand and solar panels to cut energy costs.
Porthmadog Football Club officials say the long-term aim of improving Y Traeth is to get the team back into the Welsh Premier League.
It also wants to form a women's squad, a team for people with disabilities and attract more children.
If funding is found, work should begin in April or May next year.
The club dropped into the second tier of Welsh football, the Huws Gray Alliance, three seasons ago.
"Our main aim is to get back into the Welsh Premier League because we were relegated due to reorganisation three years ago," Phil Jones, the club chairman, told BBC Radio Wales.
"That is our long-term aim but in the meantime we want to improve the facilities here.
"Like most clubs our facilities are quite old now.
"The main stand was built over 50 years ago, the changing rooms are not up to standard."
Mr Jones said having an all-weather pitch would help the club because there was a limit to how much the current grass pitch could be used, especially during a wet winter.
"It's one of the wettest winters for a long time and it is suffering a lot more so we are struggling with how many games we can play on it," he said.
"What we'd like to do is involve the community more. We'd like to get a ladies' team, a team for players with disabilities, and we'd like to see a lot more youngsters on our pitch. Local colleges have also shown an interest."
Mr Jones said funding was being sought from a variety of sources including the Football Association of Wales.
Meanwhile meetings have been held with local councils and supporters.
"We are realistic that it's not going to happen before 2015, but we are hoping to crack on and start the work in April/May next year," he added.