Walkers burned in lightning storm in Snowdonia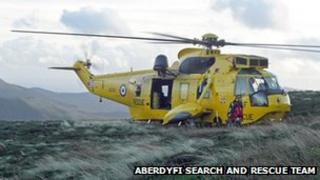 Two mountain walkers suffered burns to their feet after a lightning strike which left them unable to walk.
The pair lost the feeling in their legs and were rescued near the summit of Aran Fawddwy in Snowdonia on Saturday.
The region had been hit by a sudden hail and thunder storm.
The friends, aged 58 and 37 and from Buckinghamshire, were flown to hospital. One man needed to be carried down the mountain while the other's condition improved and he walked.
They were then flown to hospital in Bangor where they were kept in overnight.
A hospital spokesperson said on Sunday their condition was stable.
Aberdyfi Search and Rescue Team was called in after an RAF search and rescue helicopter was initially unable to reach the men because they were above cloud level.
RAF winchman Sgt Dave Currie, who was lowered onto the mountain to assist the other rescuers, said the pair thought the lightning had struck just a couple of feet from them.
He said that after after taking off their boots, the men found their socks had been burned. They had blisters and burns on their feet.
Graham O'Hanlon, from Aberdyfi Search and Rescue Team, said: "Initial reports suggested that they had sustained three broken legs between them.
"But it transpired that they had been caught up in a sudden electrical storm.
"The men had both experienced paralysis in the legs when lightning hit the ground about a metre away from their position.
"One man had regained some sensation, although the other remained unable to move his lower body."