Anglesey electricity: Use cables not pylons, plead residents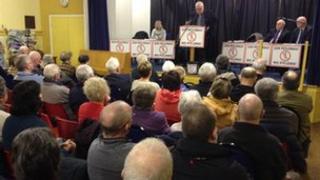 New supplies of electricity from Anglesey should be carried by undersea cables rather than overland pylons, local people have said.
Residents want power from wind farms and the planned new nuclear power plant linked to the grid in this way.
Around 150 people attended a public meeting to discuss plans for electricity pylons across the island on Friday evening.
The National Grid's preferred option would be three times cheaper at £750m.
People living both side of the Menai Strait say they have concerns the environmentally sensitive area may be affected.
Arfon MP Hywel Williams and Albert Owen, MP for Anglesey, both criticised the National Grid for only offering the option of four pylon routes.
The MPs said they were co-operating with colleagues in parliament to push the National Grid to consult fully rather than just publishing the company's preferred option of a new line of pylons.
Mr Williams said the option of four potential pylon routes was "like offering a choice between hanging and being shot".
Mr Owen said he was unhappy with National Grid's consultation.
He said planned energy projects on the island, including the Wylfa Newydd nuclear power station and offshore wind farms, would benefit the whole of Britain so money should be found to fund a sub-sea cable connection between Anglesey and the mainland.
The plans focus on taking power generated on and around the island and connecting it into the electricity network over the next 10 to 15 years.
Residents say a cable under the sea would avoid using 25 miles (40km) of pylons across Anglesey and an official area of outstanding natural beauty at Menai Strait.
However, the National Grid's preferred option would be three times cheaper at £750m.
It has been a year since the National Grid consulted on five different options on how to bring power for electricity from Anglesey to the rest of the grid and the UK.
Locals on both sides of the Menai Strait say they are concerned that this environmentally sensitive area may see a new line of pylons and power lines crossing the narrow stretch of sea.
Electricity demand
Grid engineers and planners have to plan for a 3.6 gigawatt of power from the planned Wylfa Newydd nuclear plant, as well as large wind farms out to sea which could produce another 2 gigawatt of power for the UK in 10 to 15 years' time.
That is equivalent to a tenth of Britain's peak electricity demand in winter.
Friday's public meeting was held in Llanfairpwll where an existing line of pylons carries power by the village over the Menai Strait to a sub station at Pentir near Bangor.
Llanfairpwll resident and community councillor Hanna Huws said with 10% of the UK's energy "traversing the area", the under-sea cable option should not be discounted on cost.
"We are becoming an energy superhighway and we expect a relative cost to compensate for the energy we are carrying," she said.
Wales National Grid external affairs manager Chris Isaac said: "When we consulted on the overhead line option we heard loud and clear from people that they thought the Menai Strait was a really sensitive area.
"Now we are doing studies there to look at ways we could potentially cross the Menai without using an overhead line."