Death crash driver John Aled Williams has jail term cut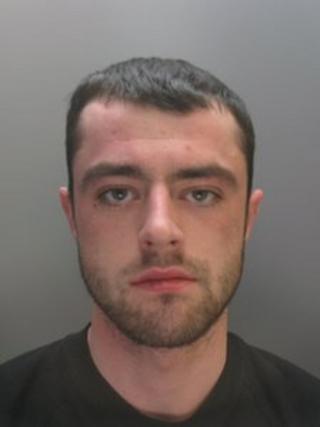 A drink-driver who caused the death of a friend when he lost control of a car on Anglesey has had his prison sentence cut by the Court of Appeal.
John Aled Williams, 23, of Llanfaethlu, was about one-and-a-half times the drink-drive limit when he caused the accident on the A5025 in March 2013.
Passenger Philip Pilbeam, 32, died.
Williams admitted causing death by dangerous driving and was jailed at Mold Crown Court for 40 months, now cut to 32 months.
He was driving a Ford Fiesta on his way home from a night out with four friends when he lost control.
Williams escaped the wreckage physically unscathed, but rear seat passenger Mr Pilbeam died at the scene.
State of shock
The victim was a former Welsh junior international fell-runner and worked as a cafe assistant at Morrisons in Holyhead. He left a girlfriend and baby son, born just before Christmas 2012.
The judge at the trial last August said Williams should not have left the scene and shock was no good reason to leave the site of an accident.
However, at the Court of Appeal in London on Thursday, Mr Justice Globe said Williams was not trying to escape, was in a state of shock, and was led away by others who were concerned for him.
The court heard he was distraught and muttering, and had to be led away to a nearby house.
His mother and sister came to take him home and shortly after police arrested him, without resistance.
Mr Justice Globe said: "In our judgment, there is merit in the proposition that Williams was shepherded away from the scene as an act of compassion and in circumstances where he wasn't attempting to escape from his wrong-doing.
"Everyone knew where he was going and he was easily traced.
"There is good evidence that he was considerably shocked and distraught after the accident.
"We are not satisfied that this is one of those cases where the offender has run away to avoid the police."