Harlech pool: 200 attend emergency meeting over future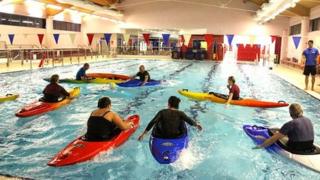 Around 200 people have attended a meeting to discuss the future of a Gwynedd swimming pool five years after it was saved by a community group.
Harlech pool directors called the meeting to get more people involved in running and using the centre.
The community took over the pool in 2010 after Gwynedd Council said it could no longer afford to run it.
A group of people have expressed an interest in joining the board and donating their skills to the pool.
Community company Harlech and Ardudwy Leisure was set up three years ago to run the facility.
It has carried out refurbishments, and the pool building now includes a climbing wall and cafe.
One of the directors, Dylan Hughes, told BBC Wales News around four to six people would be coming to the next board meeting with a view to joining after Tuesday night's emergency meeting.
Some others had also volunteered to help out at the centre and with projects to boost revenue, including a plan to replace the boilers.
Mr Hughes explained if a biomass boiler was installed, the pool would qualify for the renewable heat incentive scheme which could lead to a £35,000 boost each year.
He also said the council had agreed to resurface the approach road to the pool, which he described as in a really bad state.
But he added: "We've still got the problem of how do we get over the next two to three months?
"The cash flow situation isn't any better since last night."
Mr Hughes said he hoped more people would come forward with suggestions for raising revenue for the pool.