Liverpool footballer Glen Johnson loses driving ban appeal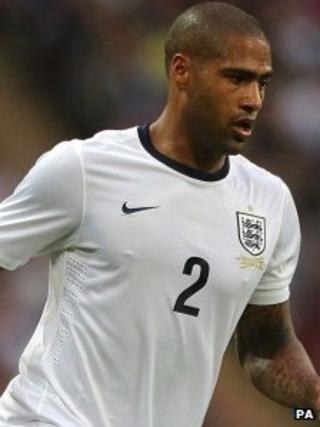 Liverpool and England footballer Glen Johnson has lost his appeal against a six-month driving ban for failing to tell police who was at the wheel of his car on the A55 in north Wales.
The car was clocked at 67mph in a 50mph zone in Colwyn Bay in February 2013.
Johnson told the court in Mold he had not received two notices sent to him and claimed that a third he returned must have got lost in the post.
Judge Philip Hughes said he was "quite sure" the notice had not been returned.
An application was then made to reduce the six-month ban imposed but the judge returned to court and said that would be inappropriate.
Johnson, 29, had denied failing to tell police who was driving his car and was convicted in his absence by Prestatyn Magistrates in December.
The footballer, who had surrendered his driving licence pending the appeal, appeared in court on Friday to give evidence and insisted that he had not received the first two notices sent to him.
He returned the one served on him by a policeman but it must have got lost in the post, he claimed.
Girlfriend
Johnson denied claims by Owen Edwards, prosecuting, that he had simply ignored the notices and had not bothered to reply to them or to attend court.
The film of the Audi travelling at 67mph in a 50mph area of the A55 at Colwyn Bay on 18 February last year was played to the court.
Johnson said he had informed the authorities that he thought it was his girlfriend Laura Higgins who was behind the wheel.
Barrister Richard Dawson said his client was a "credible and reliable witness" who said he had completed and returned promptly the form given to him by the police.
"Where it went from there he cannot explain," Mr Dawson said.
Johnson had originally been ordered to pay a total of £2,300 in fines, costs and victims' surcharge.
On Friday he was ordered to pay the additional £520 costs of the appeal.
He left the court without commenting.
"I have nothing to say," he said.