Road trip for storm-hit Barmouth marooned trains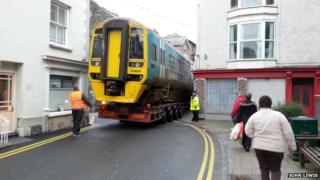 Two trains marooned on a railway line during storms that hit the mid and north Wales coast are being moved by road for safety checks.
Arriva Trains Wales decided to move the trains because they have been stranded at Barmouth since the Cambrian Coast line was damaged on 3 January.
The sea wall was washed away at nearby Llanaber with 300 tonnes of ballast lost to the sea.
The line is still closed and buses are operating instead of trains.
An Arriva Trains spokesman said the two trains consisting of two carriages each had not been damaged by the storms.
The first train started its 74-mile journey to Chester on Wednesday morning.
The spokesman added: "The units have been will undergo routine safety checks and will be put back into operation elsewhere on the network."
Meanwhile Network Rail has started repair work on the line which runs between Machynlleth and Pwllheli.
"The sea wall was washed away at Llanaber resulting in 300 tonnes of rail ballast lost to the sea and approximately 800 tonnes of debris across the line," said a Network Rail spokesman.
"The tidal surge also caused damage to embankment and sea wall at Barmouth and Tywyn leaving the railway unsafe for operations."
The spokesman said engineers had been taking advantage of improving weather conditions to start the recovery.
"This includes a detailed assessment of the damage to help us determine the repair work required and when rail services can resume," he said.