Opera star Bryn Terfel visits theatre named after him in Bangor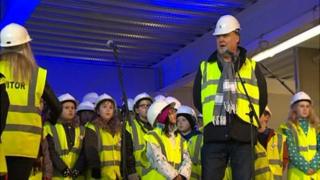 Opera singer Bryn Terfel has visited the new theatre which bears his name not far from his Gwynedd home.
Theatr Bryn Terfel will be the jewel in the crown of Pontio, Bangor University's new arts and innovation centre, he said.
Pontio, near Bangor city centre, is due to open in September this year.
On Friday Terfel joined local children to sing 'Anfonaf Angel' (I send an angel), a song recently used as part of a Pontio event at Bangor cathedral.
"I grew up performing in local venues - from local chapels and village halls, to Bangor University's Powis and Prichard Jones Halls, and Bangor Cathedral," said the bass baritone.
"This is where I competed in annual Urdd Eisteddfodau, sang with Cor Gwynedd and as a soloist on countless occasions."
The singer added the city was also where he took his piano and singing exams as a young boy.
"Bangor has a special place in my heart and I have fond memories of Theatr Gwynedd too," he said.
"These venues offered me the invaluable opportunity to develop my craft as a young performer."
Terfel, who still lives in Gwynedd, said he looked forward to both performing there and being an audience member.
"I know how important it is to have a high quality and vibrant performance venue and a thriving arts and music scene at the heart of our Welsh communities," he said.
Pontio's artistic director Elen ap Robert said Terfel was an "inspirational role model for aspiring young musicians" everywhere.
"He has done so much for the arts in north Wales - and to raise the profile of Wales internationally," she said.
"We look forward to welcoming him to perform in our opening gala event and to offer young performers of Bryn Terfel's own foundation an opportunity to share their special talents with Pontio audiences."
Ms ap Robert added it was an exciting time for Pontio with the opening due in September.
"Theatr Bryn Terfel will be a strategically important mid-scale performance venue which can be adapted to accommodate a wide range of art forms - from drama, dance, comedy, gigs, world music to classical music concerts and chamber opera," she said.