'Snow eagles' ready for bad weather across Gwynedd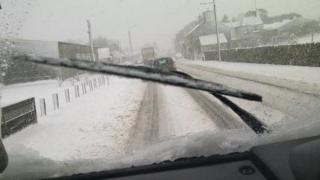 Volunteers have been trained by Gwynedd council to help keep their local communities moving when it snows.
Initially the Eryrod Eira (Snow Eagles) pilot project will cover Bethesda, Llanllyfni, Llanaelhaearn, Dyffryn Ardudwy, Bala and Llanuwchlyn.
The volunteers will not be carrying out road-clearing as that is already done by Gwynedd council.
Instead they will concentrate on problems such as blocked pavements and access to essential buildings.
The council said highways staff concentrate on keeping Gwynedd's 665 miles of priority roads open when ice and snow is forecast.
"As a result, we are not always in a position to immediately respond to requests from the public to clear ice and snow from pavements or footpaths, " said cabinet member for the environment, Councillor Gareth Roberts..
"The Eryrod Eira will be able to tackle local problems that may not be a high priority as compared to keeping main roads open, but which never the less can cause difficulties and problems in individual communities."
Mr Roberts added that similar schemes had been successful in other parts of the UK and if the Gwynedd model works it will be introduced in other communities in Gwynedd.
Councillor Eryl Jones-Williams from Dyffryn Ardudwy said in the current financial climate it is time for communities to "take responsibility for their own area".
In Llanaelhaearn councillor Llywarch Bowen Jones said the volunteers there would concentrate on access.
"We will be prioritising the work of clearing access to local amenities including shops and the doctor's surgery in Llanaelhaearn and clearing snow from bus shelters so that people don't have to stand in the road," he added.
Snow has not yet caused any major problems in Gwynedd but councillor Alan Jones Evans, who represents the Llanuwchllyn near Bala said the Eryrod Eira scheme will be appreciated if heavy snow hits.
"It's time for us to think what we in the community can do to help ourselves and others.
"As the equipment has been given to the community, it's up to us to make the most of it. If anyone else in the area is keen to take part, then please contact me," he added.
In Llanllyfni, local Gwynedd councillor Craig ab Iago added: "I think this is a great idea with the massive cuts that are on the way to the Council budget.
"We need to find imaginative solutions and take more responsibility regarding how our own communities run."
Volunteers for the scheme in the Bethesda area have been asked to contact local community group Balchder Bro Ogwen by emailing: paul.rowlinsion@trysor.f9.co.uk