Smoke alarms help save Anglesey fire couple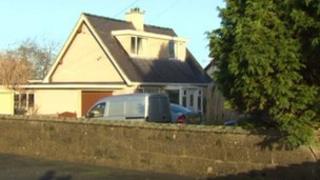 An elderly man and woman were rescued from an Anglesey house fire after being alerted by smoke alarms.
The pair - both in their seventies - needed hospital treatment for smoke inhalation, but have since been released.
Crews from Llangefni and Menai Bridge were called to the house in Rhosmeirch, near Llangefni, at 04:00 GMT.
Fire alarms had previously been fitted at the property by North Wales Fire and Rescue Service.
"The early activation of the smoke alarm allowed the residents to call 999, and control operators were able to give fire survival advice before firefighters led them to safety," said Darren Jones from the fire service.
"This kind of incident clearly demonstrates the importance of working smoke alarms - they really can save your life and the lives of your loved ones.
"These smoke alarms were fitted by a member of the service free of charge through a free home fire safety check - everyone should have working smoke alarms in their homes."
The fire caused substantial smoke damage to the ground and first floors of the property and slight fire damage to the living room.
The cause of the blaze is thought to be electrical.