Crime data shake-up brings 'clarity' says commissioner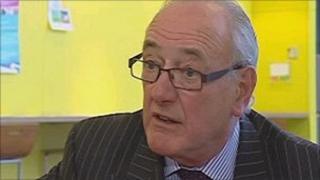 The police and crime commissioner (PCC) for north Wales has backed a change to the way offences are recorded.
In England and Wales about 70% of crimes are currently recorded as "undetected" with no indication as to why they did not lead to charges.
But there will now be new categories such as "prosecution prevented", for example if a suspect is too ill to stand trial.
North Wales PCC Winston Roddick said the changes would bring clarity.
"It seems to me that what the government is doing is introducing simplicity and clarity around a subject which, at the moment, is surrounded by vagueness and ambiguity," he told BBC Radio Wales.
Irene Curtis, president of the Police Superintendents' Association in England and Wales, said the changes would help to make it clearer to the public how the police worked.
Currently, police can record cases as resulting in a charge, a caution or as undetected.
UK ministers say it will discourage forces from claiming offences have been cleared up when they have not.
But Labour said changes could not hide a recent decline in detection rates.