Snowdonia mountain walkers warned to be prepared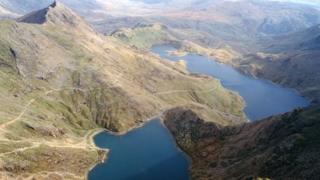 Walkers in Snowdonia are being urged to be properly prepared for winter conditions before setting out.
MountainSafe, a partnership of rescue teams and emergency services, said it was easy to forget the importance of thorough preparation.
It is encouraging walkers to ensure they have the correct equipment and clothing and check weather reports.
Llanberis Mountain Rescue Team, which covers Snowdonia, said call outs were often to people who did not prepare.
Chairman John Grisdale added: "If walkers did their research thoroughly, including finding out ground conditions - with the proper equipment and appropriate clothes - it would make our work as a rescue team much easier.
"Remember to also let a friend know where you are going and when you intend to return. Also remember, in an emergency on the mountain, dial 999 and ask for police and then mountain rescue."
'Fitness and experience'
MountainSafe has issued a five-point checklist for walkers:
Prepare carefully - carry a map and compass, food and drink, whistle, fully charged phone and working torch
Plan the route - check how long the journey will take and know what time darkness falls
Check the local mountain weather forecast - turn back if the weather gets worse
Dress appropriately - strong boots, several layers of clothing including warm gloves, hat, and waterproof coat and trousers
Be aware of ability levels - plan the trip according to the fitness and experience of the group, not individuals
MountainSafe includes representatives from Snowdonia National Park Authority, North Wales Police, North Wales Mountain Rescue Association, the RAF, Llanberis Mountain Rescue Team and other agencies.
Snowdonia National Park senior warden Dewi Davies said on behalf of MountainSafe: "Whatever the weather, the same care and thorough preparation are needed before going out into the mountains.
"And if you have the chance, take advantage of the sales in shops at this time of year - they could save lives in the long run."