Two saved after 120 minute plan to walk to Snowdon peak and back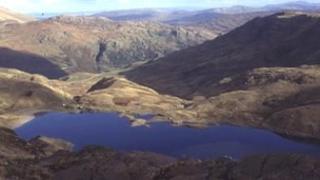 A couple who read on a website that they could walk up and down a 3,000ft (914m) Snowdonia peak in two hours had to be rescued after getting lost.
The pair, in their 20s, got stuck above a steep drop after reading that the North Ridge of Tryfan was an easy path, when it is one of the most challenging.
Ogwen Valley Mountain Rescue were called around 15:00 GMT on Sunday.
They used ropes and a harness to lower the couple from London, who had no climbing equipment, to safety.
Rescuers said the walkers had set off without any equipment and had no rucksacks, maps, spare clothing or torches.
They had only lightweight walking boots, mobile phones and a bottle of water each.
When the pair realised the route was a challenging one they turned back, but got lost and ended up in a rock-climbing area known as Milestone Buttress.
Rescuers used the Sarloc smartphone system, which pinpoints the exact location of a smartphone, to find the walkers.