Liverpool footballer, Glen Johnson, handed driving ban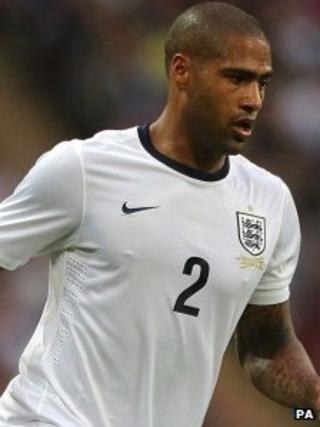 Liverpool and England footballer Glen Johnson has been banned from driving for six months for failing to tell police who was at the wheel of his car.
Magistrates heard that a police officer using a speed gun saw Johnson's Audi car on the A55 at Colwyn Bay, Conwy, in February this year.
Johnson, 29, denied the offence but was found guilty in has absence last month.
He already had six points on his licence and was banned under the "totting-up" procedure.
The defender, from Formby in Liverpool, did not appear at Prestatyn Magistrates' Court. He also had to pay a total of £2,300 in fines, costs and victims' surcharge.
During the original hearing on 29 November, the court heard Johnson's defence was that the form to identify the driver of the car had been completed and sent back, but had been misplaced.
Before evidence was heard his solicitor had indicated he would appeal against any conviction.