Liverpool footballer, Glen Johnson, facing driving ban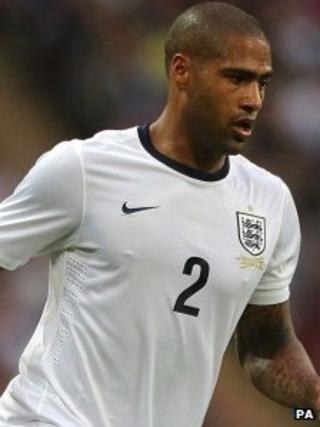 A Liverpool and England footballer could be banned from driving for failing to tell police who was at the wheel of his car.
Magistrates heard that a police officer using a speed gun saw Glen Johnson's Audi car on the A55 at Colwyn Bay, Conwy, earlier this year.
A notice was sent out but no response received. He denied the offence.
The player, who was not at Llandudno Magistrates' Court, already has six points on his licence.
Sentencing was adjourned but the offence carries six penalty points.
His solicitor said he could not be in court on Friday because of club commitments.
He added that his client was "in the custody" of his club before an "important" match at Hull City.
The lawyer said Johnson was in a "catch-22 situation", because if he had been in court he would have been disciplined by the club.
However, the prosecution said the match date would have been known before the court fixture.
The court heard Johnson's defence was that the form to identify the driver of the car had been completed and sent back, but had been misplaced.
Refusing the adjournment, the magistrates' chairwoman said Johnson would have known his football fixtures when the trial was fixed in October and had ample opportunity to bring this to the court's attention.
The prosecution said a police constable had been using a laser speed-measuring device in a 50mph zone on the A55 dual carriageway at Colwyn Bay on 18 February when he saw the Audi in question.
A notice was sent to Johnson as the registered keeper but no response was received, the court heard.
He was found guilty of not providing the information and it was revealed he already has six points on his licence.
Before evidence was heard his solicitor had indicated he would appeal against any conviction.