Flooding fears in Rhostryfan and Llanberis 12 months after deluge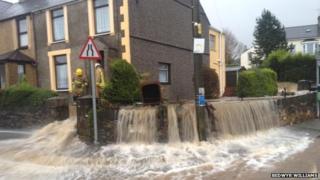 Residents of two Gwynedd villages say they are concerned their homes and businesses could be damaged again 12 months after devastating floods.
In Rhostryfan there is a dispute about the type of grid used on a culvert which diverts water away from homes.
Meanwhile in Llanberis, where around 100 properties were affected, lack of cleaning under a bridge is causing concern.
Gwynedd council said everything was being done to prevent a recurrence.
In November 2012 torrential rain and gales saw homes flooded and motorists stranded across north Wales.
Flash flooding hit scores of properties in Snowdonia, while winds of up to 90mph battered south west Wales.
In Rhostryfan villagers were concerned that grids placed on a culvert made the situation worse, and 12 months on there is still no agreement between Gwynedd council and the local community about the best way forward.
"They want to place a fixed walkway along the top of a grid to make it easier to clean, but we want a removable walkway so if the water comes up again it has somewhere to go," said Melfyn Jones, who spent six months out of his home due to flood damage.
"We've built a wall and put up a flood gate, but if it's raining I can't sleep and keep getting up to check the levels in the river," he added.
In Llanberis, an estimated 100 properties were hit by a flash flood after the Afon Goch burst its banks above the village, sending a surge of water down the hillside and into the main street.
Local resident Emlyn Baylis said that 12 months on the feeling in the village is that Gwynedd council "is not listening to local people who know the area".
He said a main concern was that a bridge in the centre of the village - where the Afon Goch went over the top last November - was not being cleared properly.
In a statement Gwynedd council said that around 200 properties had suffered flooding after a long period of torrential rain on 22 November last year.
"In Rhostryfan careful modelling work showed that the volume of rain that fell on that day would have caused flooding whatever measures had been put in place.
"So we have concentrated on taking steps where possible to reduce the risk to local homes."
Regarding Llanberis the council said staff had been monitoring the Afon Goch and debris had been removed.
"As the bridge is too narrow for a digger to get underneath experts were employed to clear the river bed.
"Since then council staff have undertaken further clearing in the middle of the river and we continue to monitor the situation."