Bryn Seiont dementia care centre flats are approved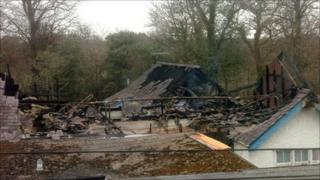 A residential home for dementia patients in Gwynedd is to go ahead after councillors approved plans for extra apartments at the site.
Planning permission for a 67-bed centre had already been granted at the old Bryn Seiont hospital near Caernarfon.
But Mario Kreft and his wife Gill wanted 16 extra units at the site and said opposition could scupper the plan.
Councillors backed the proposal despite it being recommended for refusal by planning officers.
Mr Kreft, who owns Pendine Park care facility in Wrexham, said the extra rooms were needed as part of an "integrated service".
But council planners had said it was tantamount to constructing in open countryside.
Objectors said the proposed extra 16 units would cause a danger to pedestrians and cyclists on the access to the site which is on a "narrow and winding road on a hill".
They also said there was "no need for 16 extra care units in Bryn Seiont as a number of buildings in the town are already vacant".
Planning officials had recommended the proposal was refused.
A report before councillors on Monday afternoon said the proposal "involves constructing 16 extra care residential units outside a development boundary, and in essence, is tantamount to constructing 16 houses in open countryside".
But councillors unanimously rejected the recommendation and approved the application.
The applicant said the extra units would be used by people who were over 55 years old and showing early signs of dementia but who wanted to live in self-contained accommodation.
'Vital services'
The occupants would then move to the specialist nursing facility when their illness worsened.
Mr Kreft, who was awarded the MBE for his services to social care in Wales, said he was grateful to councillors who "see the bigger picture and the strategic need for a development of this nature".
He said the apartments were "central" to the site, which expected to employ up to 100 people.
"Our aim from the outset has been to provide vital services and much needed employment in the area," he said.
"I am pleased we can now proceed to realise our vision of creating a world class, fully bilingual centre of excellence for dementia care allied to 16 extra care apartments as part of an integrated service."