Anglesey council 'transparency call' after holiday resort vote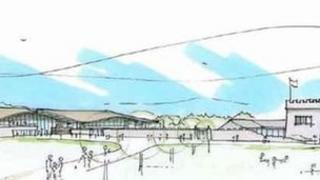 An Anglesey councillor has called for more transparency after a controversial holiday resort decision at Holyhead.
Victor Hughes said if an informal meeting had been held before the planning committee approved the scheme the situation might be different.
It centres on whether the Land and Lakes resort would initially be used to house workers from a nuclear site.
Anglesey council said Horizon nuclear's position on Land and Lakes was made clear in a letter before the vote.
Earlier this month plans for the 800-lodge resort at a country park on Anglesey were approved, after initially being rejected in October.
The company claimed it is a "quality destination" in Holyhead and will create 600 jobs.
Planning documents had mentioned that the accommodation built would "initially be utilised by nuclear workers" on a proposed Wylfa B nuclear scheme.
But in another informal meeting councillors were told by Horizon, the company behind the nuclear proposal, that it had no concrete plans to tie-in with Land and Lakes and were in fact looking at various options to house the workforce.
According to Mr Hughes this was crucial information that should have been shared with all councillors.
The independent councillor admits that the planning committee did know there was no formal agreement between Horizon and Land and Lakes prior to the vote, but added that he feels that information should have been given in person.
'One option'
He said that councillors were given the impression by Land and Lakes of a closeness between the company and Horizon.
Horizon told the BBC the Land and Lakes development is "potentially one option for accommodation some of the workforce for our new power station at Wylfa - but no agreement has been signed... and we continue to assess a range of options".
Although he was not present, Mr Hughes said he believes this was also the viewpoint given by a representative of Horizon to councillors at a meeting he claims few elected members knew about.
"I'm very surprised, because the impression we were given in the planning committee was that these companies were running hand in hand and it's very disappointing to find this out after we'd made a decision," he said.
"It certainly should have happened before our planning committee because this information was so crucial we should have been told what Horizon's viewpoint was long before this."
Mr Hughes added that he thought things had improved at the council - where the Welsh government announced in May it was ending its intervention in the running of the authority.
"I though things had improved [at the council] and I think it is possible for us to do things correctly, but it's obviously that one small thing has gone wrong once again in the contact between us," Mr Hughes added.
Commissioners had gone into the council in 2011 after decades of infighting.
Aled Morris-Jones, a member of the executive committee, said the meeting with Horizon was an informal one and members from all parties were present.
He said no minutes were available, because it was totally informal, with Horizon discussing the consultation which will take place on its plans for a Wylfa B.
"The only other thing I would say is that Horizon made its viewpoint very clear before the planning committee, there was a letter by Horizon in the information pack," he added.