Evan Lloyd Evans jailed after 'appalling' horses case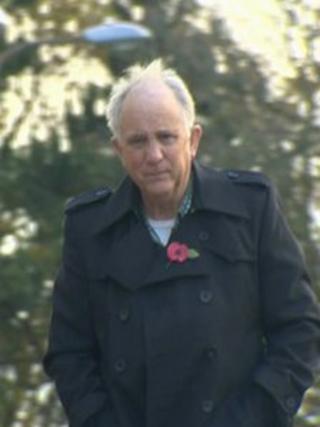 A horse owner has been jailed for 10 weeks and banned from keeping the animals for 10 years after causing unnecessary suffering.
Evan Lloyd Evans, 69, of Chwilog, Gwynedd, was found guilty of keeping the 51 horses in "appalling" conditions at his stud farm at an earlier hearing.
Nine of the horses were put to sleep, Caernarfon Magistrates Court heard.
The RSPCA said the sentence sent a strong welfare message to horse owners and breeders.
The judge was told that looking after the horses since June 2012 had cost the welfare charity £300,000 but that Evans had no money.
He was found guilty of causing unnecessary suffering and failing to meet the welfare needs of 51 horses.
The court heard RSPCA officers visited him on 27 June 2012, and a vet put nine horses to sleep due to untreatable hoof conditions and to prevent further suffering.
Another 50 horses were removed.
RSPCA inspector Mark Roberts said: "The conditions we found at Cricieth Stud were appalling and completely inappropriate for the ponies kept there.
"Many of them had acute problems with their feet and other serious health issues.
"We had been alerted to the fact there were many ponies in unsuitable conditions but did not expect to have to remove 50 of them on veterinary advice.
"In addition the vets also advised that nine had to be put to sleep as sadly their condition was so extreme there was no other way to alleviate their suffering."
"It was an extremely bad situation made worse by the fact that many of the ponies were virtually unhandled making any necessary treatment incredibly difficult to carry out."
Nigel Weller, defending, said Evans had spent his life devoted to a particular breed of Welsh mountain ponies and was proud of their bloodline.
His ponies were well known and desired but during a period of several months he fell below the standards expected.
Insp Roberts said the case highlighted how "over breeding and overstocking can spiral out of control".
"This is a fair sentence and sends a strong message to all horse owners and breeders that they must put the welfare of their horses before all else," he added.
Tony Evans, north and mid Wales field officer for the World Horse Welfare charity, said: "It saddens me to think that all the help and advice that was given to the owner failed to have any significant effect.
"As our main priority has to be the welfare of the ponies, we had no choice than to involve the RSPCA to undertake stronger measures.
"In many of the situations we deal with, long and costly prosecution cases can often be avoided if the owner follows the advice given by World Horse Welfare field officers and takes appropriate action."