Typhoon appeal: Singer Paul Potts to perform in concert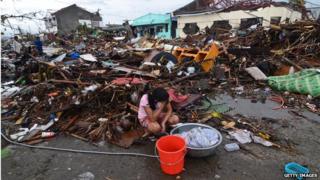 The tenor Paul Potts will join other acts to give a special concert on Anglesey to raise money for the victims of the Philippines typhoon.
S4C has cleared its TV schedule on Sunday evening to broadcast the event.
All money raised will go to the official Disasters Emergency Committee Philippines Typhoon Appeal.
Members of the public are being urged to support the concert at the Anglesey showground near Holyhead with tickets available at the site.
"The scenes that we've seen from the Philippines on the news have shown clearly the scale of the devastation that has struck the country and the terrible suffering there in the wake of the typhoon," said S4C's director of content Dafydd Rhys.
"While discussing what contribution we could make to publicising the appeal for donations, it became clear that it could be possible for us to stage an event on Anglesey on Sunday night and that such an event could provide a further boost to the fundraising efforts."
The show is being hosted by the BBC Radio Cymru presenter and comedian Tudur Owen.
Along with Paul Potts, other guests who have agreed to take part at short notice include the Welsh language artists Bryn Fon and Elin Fflur.
"I very much hope that this concert will help raise more money to alleviate the suffering of people in Philippines," added Mr Rhys.
The whole concert will be broadcast from 19:30 GMT on S4C.
The concert itself starts at 18:30, with tickets available on the night at the showground, costing £10 for adults and £5 for children.