Wylfa Newydd: Anglesey's new nuclear plant named by Horizon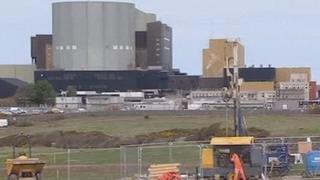 An £8bn new nuclear plant to be built on Anglesey has been named, its owner has announced.
Wylfa Newydd, which is Welsh for New Wylfa, was named in recognition of the "opportunities" it will bring, Horizon has said.
Up to 6,000 jobs are expected to be created while the new reactors are built and around 1,000 when the plant is operating.
The site was bought by Japanese company Hitachi last year for around £700m.
It is hoped the project will boost the island's economy.
"Next year our project will start to gather pace in a way that is much more visible to local people, so we felt now was an appropriate time to announce the new name," said Horizon's chief operating officer Alan Raymant.
"Our proposal is not just about steel and concrete, it's about creating a new, positive and successful future for Anglesey."
Next year Horizon will hold a first phase of formal public consultation with plans for initial site work to begin from 2015.
Major on-site work would start in 2018 with the first electricity being generated by the mid-2020s.
Meanwhile, Hitachi has opted to build a smaller plant, deciding to construct two reactors - called Advanced Boiling Water Reactors (ABWR) - instead of three.
"Designs are being worked up for two ABWR units as part of a single power station at the Wylfa Newydd site," a spokesperson said.