Bangor University has 'great escaper' centenary feature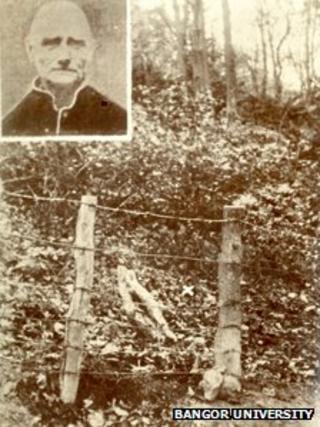 One hundred years since one of Wales' most brilliant but fatally flawed criminals met his match is being marked by Bangor University.
Compulsive thief John Jones was born in Bala around 1854, and spent 30 of his 60-year life behind bars although his many stints in jail were often short.
This was because he would escape and head back home - where he would routinely be rearrested.
The exploits of Coch Bach y Bala - the little redhead from Bala as he was known - made him a popular character across Britain.
When, following his final escape in 1913, he was shot and killed by a student who was the son of an unpopular local land owner, his home community reacted angrily.
Einion Wyn Thomas, of Bangor University's archives and special collections department, said: "Everyone knew Coch Bach wasn't a bad man as such.
"The items he stole were rarely of significant value. There are numerous tales of him breaking into a home and taking nothing but a key when it had been next to a pile of gold sovereigns.
"For him it appears to have been all about the thrill of the steal. He'd go to extraordinary lengths to defeat the tightest security."
Now to mark the centenary of his death, Bangor University's archives and special collections department has put together an online feature from the records they hold including newspaper clippings, photographs, police reports and his own writings.
It is certainly a colourful story and much of it is surrounded in myth and legend.
While Coch Bach was an expert at breaking-in, he was equally adept at breaking-out.
What is known for certain is that while serving his first sentence for theft at Ruthin Gaol in 1873, he managed to fashion a key.
Opening the door of his cell, he then set free all his fellow prisoners and led a mass walk-out through the front door while the guards were at supper.
He also attempted to dig his way out of Caernarfon Prison, and for his final escape in 1913 aged almost 60, he rigged a pulley system from his bedclothes and hauled himself over the cookhouse roof and down the perimeter wall.
Less verifiable are the tales of how, during a trial in absentia while on the run, an artist's impression in the following day's newspaper showed that Coch Bach had in fact been watching from the public gallery.
And whilst he did indeed teach himself English in prison, it is unclear whether he really did live as an English gentleman and even an old woman during his time as a fugitive.
Though Mr Wyn Thomas believes that the only opponent Coch Bach could never overcome was himself.
"In many ways his story is a sad one. These days he'd almost certainly have been diagnosed with a mental illness but at the time he was a criminal plain and simple.
"Though many did recognise him as the showman he so desperately wanted to be.
"When he wasn't in prison he was a painter and decorator, and he'd wow the children by shuffling the ladder along the wall from 20ft up in the air."
Pauper's grave
Newspapers reported almost daily on Coch Bach's exploits, making him something of a hero throughout the UK.
But perhaps the £5 reward offered for his capture by The Times ultimately influenced Reginald Bateman, the student who shot him when he caught Coch Bach poaching while on the run on 6 October 1913.
But Bateman faced a furious reaction from his community and was even charged with manslaughter, although the case was eventually thrown out.
Coch Bach was buried in an unmarked pauper's grave which only had a headstone added on the 50th anniversary of his death.