Calls for a historic bridge in Llanrwst to be better protected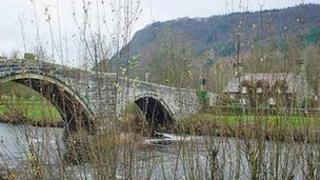 Calls have been made for a 400-year-old stone bridge which has suffered damaged by traffic to be given extra protection.
Pont Fawr (big bridge), built in 1636, is the main route between Trefriw, Dolgarrog and Llanrwst in Conwy.
But it has in recent years suffered damage from lorries and buses using the crossing.
Conwy council said the bridge - which is listed and a scheduled monument - was currently closed for repairs.
Town councillor Baroness Christine Humphreys told BBC Radio Cymru: "This bridge is nearly 400 years old and was built for a horse and cart.
"It is strong enough to take the weight of modern traffic - although it has a weight restriction - but lorries and buses are now simply too long and they damage the side of the bridge as they turn onto it.
"It should have extra protection, and although I won't see it in my lifetime a new crossing should also be built."
A spokesperson for Conwy county council said the bridge was currently closed for emergency repairs.
"The bridge was hit on the morning of 17 October - it had already been hit twice, and suffered minor damage, over the pervious 10 days.
"On 17 October the parapet wall on the south-east corner was substantially pushed out and there was a risk the stone would fall into the river," the spokesperson added.