New trend for detached homes for island wildlife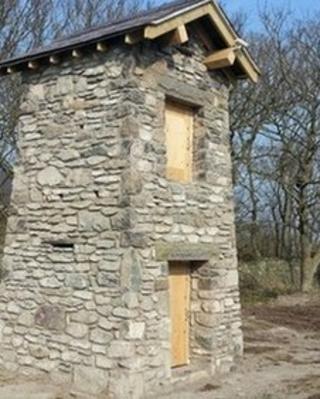 Detached homes for owls and bats are becoming increasingly popular, says an Anglesey-based designer.
Conservationists welcome the new trend as they say anything that limits human contact is better.
It is a legal requirement to protect bio-diversity whilst developing a site and in the past that often meant shoe-horning something into the design.
Wildlife Trust Wales said saving habitats is important as it could ensure a species' survival.
Before a barn or old building can be converted into a home a protected species survey needs to be carried out to check for bats, owls and other nesting species.
If the survey then finds more than one bat there is probably a roost which can only be moved with a licence from Natural Resources Wales.
Adrian Williamson, director of W M Design & Architecture in Menai Bridge, Anglesey, said since 2010, a code for sustainable homes had encouraged people to look out for wildlife and encourage bio-diversity.
"It's not all about bats and owls however as when we worked on an extension at Ysbyty Alltwen in Tremadog a survey was done to check for slow worms and small lizards, so you get a lot of different species, and rare plants," said Mr Williamson.
"Often you can convert part of the roof space on a building into a bat house, or - and this is increasingly popular - if there is a nursery roost with a large number of different generations - then it is easier to build another building nearby."
There are certain requirements for the discerning house-hunting bat.
"One that is bat friendly will have lots of holes, little nooks and crannies and letter-box-like slits for access," said Mr Williamson.
"You can put layers of plywood so there are little gaps for them to squeeze into. You can leave gaps outside the building too in the stonework to encourage nesting birds in summer."
Owls have different requirements, and the design for a 'owl tower' on a site in Anglesey came from the Barn Owl Trust.
"We gave it a Welsh-twist with the stone and slate roof. It has room for barn owls at the top, the middle bit is for little owls and then on the back there is room for bats."
"Both are in north Anglesey and have been made to look like barns, and will not be used by anything else, such as livestock, so they won't be disturbed."
He added that some similar buildings have heating because although the bats may be hibernating in winter in spring they have to wake up.
"The buildings can be orientated so that part of the roof points towards the south so that even in winter it will be warmer.
"In some place I've heard of very, very small solar panels being installed to run an electric bathroom heater, or to run CCTV to remotely monitor what is happening."
'More common'
The company is now looking at creating homes for more creatures including a place for wag-tails, again on Anglesey.
"It's often easier to build something bespoke instead of converting something which is already there," said Mr Williamson.
"You can't be sure that anything is going to move in, but you make it as enticing as possible, and in the right location.
"A lot of people are quite negative still about having to include something like a bat roost. They worry about smell but they won't cause any problem.
"It can put some people off somewhere, but you see more people now putting up nest boxes and in fact there is a number of different boxes you can put up so it's not super expensive.
"I see this type of thing becoming more common as more people do up barns."
Wildlife Trusts Wales said it welcomed the news that architects and homeowners are considering wildlife when planning the conversion of buildings and new developments.
"Many animals such as bats need shelter as humans can often disturb their habitat, especially as this time of year when they are in hibernation.
"Protecting wildlife is important to ensure species survival and also so that our beautiful creatures can diversify our landscape and be enjoyed by nature lovers," said a spokesperson.