Anglesey leisure resort: Inquiry call over Communities First staff at rally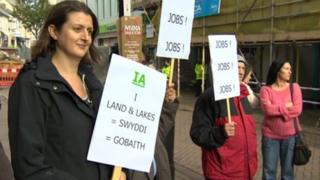 There are calls for an inquiry after staff from a publicly-funded body took part in a rally supporting controversial plans on Anglesey.
About 100 supporters attended a rally backing a leisure resort, which was rejected by the island's council.
Welsh language campaign group Cymdeithas yr Iaith claims staff from the Communities First regeneration project should not have taken part.
The Welsh government said staff were not representing Communities First.
The Penrhos scheme which developer Land & Lakes says would create up to 600 jobs was rejected by councillors last month, despite being recommended for approval.
It goes before councillors again next month after a "cooling off" period.
Supporters of the plans held a rally at Holyhead last week.
Among them were a small number of people working for Communities First, a project helping people in deprived areas of Wales.
The co-ordinator of the local Communities First also spoke at the rally.
Cymdeithas yr Iaith said Communities First is funded by the Welsh government through Anglesey council, and publicly-funded bodies should not take sides in controversial issues.
The group is against the leisure development, claiming it would encourage more non-Welsh speakers to the area.
Spokesman Osian Jones called for an inquiry into the role of Communities First in the planning row.
He said the organisation had written to Anglesey council's chief executive and the Welsh government "asking if it's appropriate that a government-funded body...have been seen to be using their time and resources supporting a planning application...to build a massive holiday village and housing complex".
In response, the Welsh government said the co-ordinator of Communities First on Anglesey was speaking in a personal capacity as a local resident and was not representing Communities First, which had no role at the event.
A statement from Anglesey council said Communities First was a separate body, adding: "We understand that officers employed by Communities First took part in a recent meeting and did so as citizens of the island, not as representatives of the company."
John Chorlton, a Labour town councillor in Holyhead, said: "I don't see the problem personally.
"I mean, if you feel strongly about something then surely you have a right to air your views and that's what they're doing...there's no company investment or any layout of funds".
He added: "You've got individuals who live and have lived in Holyhead all their lives, working there, and they want to see Holyhead return to the good old days and thrive."
Three developments are included in Land & Lakes' proposals.
Penrhos coastal park would see 500 lodges and cottages built, alongside a water park, sports hall, spas, saunas and restaurants.
The adjoining Cae Glas site would be developed to create 315 more lodges. Initially, these would be used to house workers needing accommodation if a new Wylfa nuclear power station is given the go-ahead on the island.
It would also be home to a hotel, football and cricket pitches and a nature reserve.
A third site, on the other side of the town at Kingsland, would see 360 houses built.
Land & Lakes, which has been working with land owners Aluminium Metals, Anglesey council and the Welsh government, said they would consider appealing if the council continued to oppose the planning application.