Vaughan Holme and Jack Hutton-Potts death falls accidental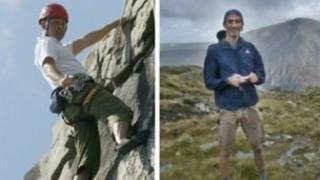 An experienced climber fell more than 300ft (91m) down a sea cliff pulling his companion with him to their deaths, an inquest on Anglesey has heard.
Vaughan Holme, 48, from Horsham, West Sussex, was climbing the Gauntlet at Gogarth cliffs near Holyhead, Anglesey.
He and student Jack Hutton-Potts, 23, of Petersfield, Hampshire, were connected by a rope.
Mr Holme had multiple injuries while Mr Hutton-Potts drowned. Their deaths in June were recorded as accidental.
Pathologist Dr Mark Lord told the inquest in Llangefni that Mr Holme's death was "instantaneous". He said of Mr Hutton-Potts: "He's fallen, become unconscious and unfortunately landed in the water and drowned."
Coroner Nicola Jones said the impact of the plunge would have been enormous.
Challenging
"Clearly the only conclusion I can come to is the deaths were due to an accident," she said.
"We don't know why Vaughan fell. We don't know why Jack decided not to hook on to the cliff."
Mrs Jones said the climb was within the men's capabilities, although challenging.
Elfyn Jones, of Llanberis mountain rescue team, said the pair were connected by a rope.
It appeared Mr Hutton-Potts was waiting to climb and occasionally when starting off it was a "judgement call" about whether to use a belay - a kind of anchoring equipment for climbers.
"Had they been belayed it's possible the fall wouldn't have had the consequences it had," he added.